Trace Bundy in Concert - Friday November 16th
- Ron Stavale [ 11/6/2012 - 21:34 ]
#
Dear Friends of MFGS
We would like to send a special thanks along to Eric Lugosch who gave an amazing performance last Saturday night at Trinity House. Classic Americana music from Rev. Gary Davis to Joni Mitchell and his own compositions. We don't know where this guy has been hiding all this time but he is a great teacher, has great chops and is pretty funny guy on stage. If you ever get chance to see Eric, don't pass it by. His website has a 'Fingerstyle Academy www.ericlugosch.com/lessonhome.html, has lots of free (yes he admits he is a bad businessman) downloads.
Our next concert is Friday November 16th with the truly amazing Trace Bundy. Back in 2008 Acoustic Guitar gave Trace the Most Promising New Talent Award ahead of the likes of Andy McKee and Macyn Taylor. Called the 'Acoustic Ninja' for his forays into playing the guitar with multiple capos along with deft harmonics and occasional looping is a site to be seen and heard.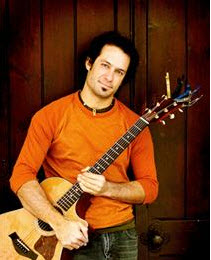 This is Trace's first concert here with MFGS and
We expect this concert to sell out
with over half of the 87 seats sold already. Go to
www.fingerstyle.org
and click on the link for tickets.
Show @ 8pm, doors at 7:30. Tickets are $20 for general admission and $17 for Trinity House Members.
There is no guitar workshop for this show
Trinity House Theatre is located @ 38840 West Six Mile in Livonia. For tickets go online to www.fingerstyle.org
"Possessing a staggering acoustic technique, on both right and left sides, Bundy has made his reputation as a next generation solo guitarist of serious repute." Boulder Weekly
Check out a couple of his performances here and see for your self.
http://www.youtube.com/watch?v=K8OmqzNDutk
http://www.youtube.com/watch?v=uw15zgMMq9M&feature=related
The Michigan Fingerstyle Guitar Society & Trinity House Theatre are 501 (c)( 3) non-profit organizations
JB Davies -Rick Haden -Mark Hawks - Jeb McIntyre - Dave Pierson - Ron Stavale
michfingerstyle@gmail.com- phone @ 248-646-4030 And please join us on Facebook!
Admired Artists